Is there anything in the world more annoying than a whining toddler?
You can only listen to that awful nails on a chalkboard sound for so long until you completely lose your cool!
Maybe your son really wanted the giant Lightning McQueen pillow he saw at the store or your daughter was upset because, heaven forbid, she was asked to clean up her toys at the end of the night.
Whatever the reason, the results are usually the same- a frustrated mama and a crying toddler.
Imagine if you were able to not just keep your composure and put a stop to the whining in the moment, but build up the skills necessary to decrease all future whining.
Well, you can!
Below I will share my responses to two reader questions that will help you learn how to handle your toddler's whining, decrease the chances of whining in the future, and most importantly, restore your sanity!
How to Handle Your Toddler's Whining
My daughter whines so much when she doesn't get her way. High pitched screams and squeals. I will usually quietly tell her to go to time out, or I will calmly ask her what she would like and to speak in a normal voice. Most of the time it's still "I waaaaant miiilllllk" or "come sit with meeeeeee".
Today while I was cooking dinner she wanted me to help her with LEGO's. She doesn't actually need help she just wants me to sit beside her. I told her I would sit with her as soon as I put the dinner in the oven. She started whining and crying for me to sit with her. I told her again I would sit with her very soon. The crying kept on and I asked her if she needed to take a time out to calm down. "No". But the tantrum kept on. I asked her to go to time out and calm down a little. She cried (fake cried) the whole time she was in time out. I'm just not sure where to go from there because I start getting very frustrated.
How do I fix this whining problem?! Sometimes I get very angry and yell at her and I hate losing my temper! Absolutely hate it.
Whining is seriously the worst! Definitely my biggest pet peeve with my toddler. It's hard to stay calm when it's just so dang dramatic and annoying lol.
You may not feel like it, but you are doing the right things! It's okay for her to tantrum- that's her release of those frustrated feelings. It's not your job to stop the tantrum. Tune it out and then follow through on your promise (sitting with her after you put dinner in the oven). That's not rewarding her behavior, but just following through on your word. It actually shows her that you mean what you say so she can feel more secure and trusting.
If timeout is being used as a consequence, then I'd get rid of it. It typically just escalates situations and toddlers rarely sit there and "think about what they've done." Instead, they're plotting their revenge lol.
However, if you're using it as a positive place for her to calm down, then that's great! If that's the case, I'd go there with her a few times and show her ways she can calm down (deep breathing, squeeze toys, rest, etc). Really make it feel like a positive thing not a punishment.
As for whining when she wants something, keep encouraging her to use her words. If she can't do that, she doesn't get the thing that she wanted.
---
Already dealing with temper tantrums and meltdowns? Download my FREE Toddler Tantrum Roadmap to learn how to handle them effectively!
Snag your Toddler Tantrum Roadmap!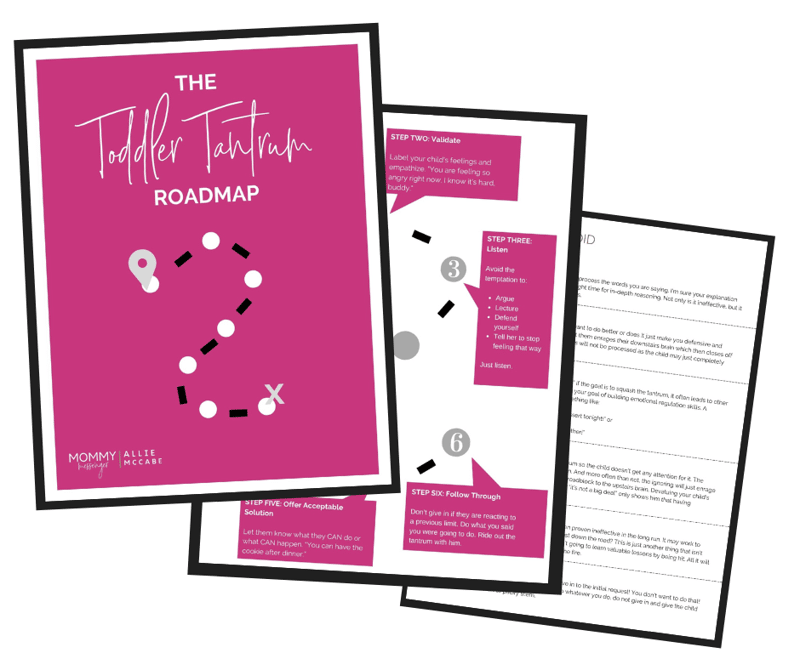 ---
My 3 year old whines!! How do I stop it?? I make him ask me without whining before he gets anything but he still just whines all the time.
Something that I had to do with my son during his whiny stage was actually teach him what a whiny voice and a nice/big boy voice sounds like. I never really thought about it prior to that but I kept telling him to stop whining but realized he probably didn't really understand what a whiny voice sounds like.
When you're not in the whiny moment, teach him the difference. Show him YOUR whiny voice and your big strong voice. Then do some role-play/practice having him use his big strong voice to ask for things.
If you've asked him to try it again with his big strong voice and he continues to whine, then he doesn't get what he asked for and just ignore the whining.
A Child Will Definitely Be Whiny if They Are…
Kids whine for a variety of different reasons. Before trying to handle the behavior directly, it's important to make sure that one of these two things are not the culprit…
Hunger

Tiredness
If your child is tired or hungry, then you can bet that whining WILL happen. Heck, I whine when I'm hungry or tired too!
Always have a quick and easy on-the-go snack with you if you're out and about and make sure your child is getting the right amount of day and night sleep for his age.
The Best Way to Prevent Whining
Handling whining in the moment is one thing, but being able to prevent it will take your efforts so much further.
Besides being hungry or tired, lack of connection is by far the biggest contributing factor toward whining.
A child who feels disconnected from his parents will turn to whining to gain attention and power. This may be the only way they know how to do that. It doesn't matter if it's positive or negative attention; they'll take any and all of it!
This is why connecting with your child is the absolute best way to prevent whining. Fill up his attention bucket right away in the morning so he is set up for a successful day.
But When We
Are
in the Moment…
The thing is, whining isn't something we can physically control.
We can block a hit or grab a child's hand who starts running away from you, but we can't physically stop a child from whining.
Because this is out of our physical control, we have to use the strategies described above in my responses to take the motivation out of it.
Focus on what you CAN control….
Your response to the whining.
A child will continue to do what works for him. If you give in to his whiny request, then he'll do it again next time.
Remain calm, allow a re-do to use his big strong voice, ignore further whining, and teach him how to use his words and regulate his emotions (not in the moment).
Now you can handle your toddler's whining like a boss!
---
Already dealing with temper tantrums and meltdowns? Download my FREE Toddler Tantrum Roadmap to learn how to handle them effectively!
Snag your Toddler Tantrum Roadmap!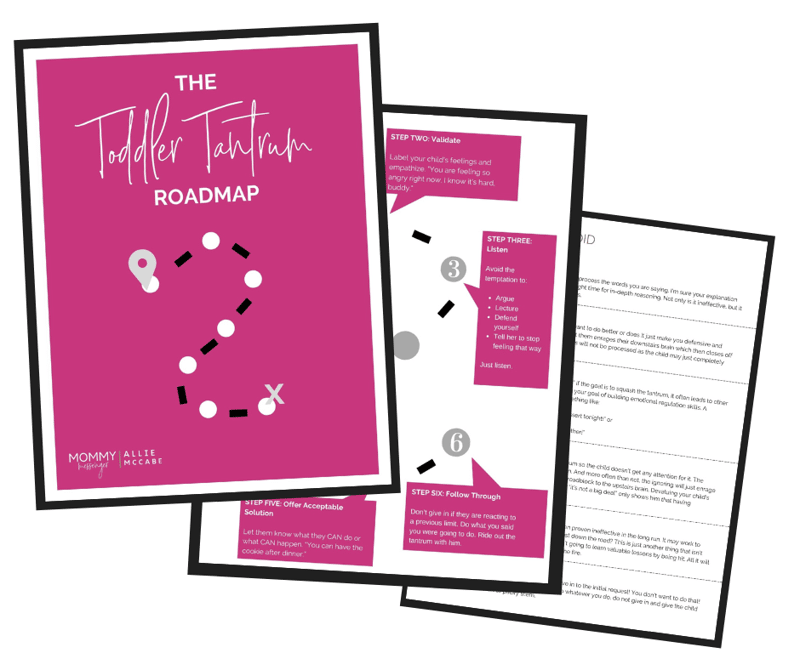 ---
If you found this post helpful, PIN IT so you can come back to it later!