Is there anything more irritating than the smirk that comes across your toddler's face after he does something he KNOWS he's not supposed to do?!
Toddlers are supposed to test you. It's their job. But that certainly doesn't make it any less frustrating for us parents!
Below you'll hear a question from a reader, Emily, who has been having trouble figuring out how to respond to her toddler throwing toys.
---
Hi Allie!
My son is 2.5 years old and has been throwing everything. We have counted to 3, done time out, spanked, taken the toys away he is throwing and he still laughs and continues to do it. Any ideas on how to deal with this?
Hey Emily!
The toddler testing phase is super fun, isn't it!? The key with this one will be to stick to ONE approach and be super consistent with it. It may take a while for this particular issue because he is going to continue testing you to see if the outcome is the same every time.
When he throws something, let's say it's a toy car, go over to him, get down on his level, and say in a calm but firm tone "I do not want you throwing that. You can drive it like this or you can jump it over these blocks." (Basically just showing him how he CAN play with the item).
If he throws something again, you're exactly right, take the toy away "I cannot let you throw this car. I'll need to take it away." Now the key will be to stay close and block this from happening with anything else. If he grabs another toy, put his hand gently on his and guide him to playing with it the right way. Remain calm as hard as it will be! You don't want him to see that it's getting a reaction out of you.
It may be an exhausting little game of defense, but he will soon learn that you will NOT let him throw his toys. At the same time, you are showing him how he IS allowed to play with the toys.
Stay consistent with this and he will eventually lose interest!
---
Already dealing with temper tantrums and meltdowns? Download my FREE Toddler Tantrum Roadmap to learn how to handle them effectively!
Snag your Toddler Tantrum Roadmap!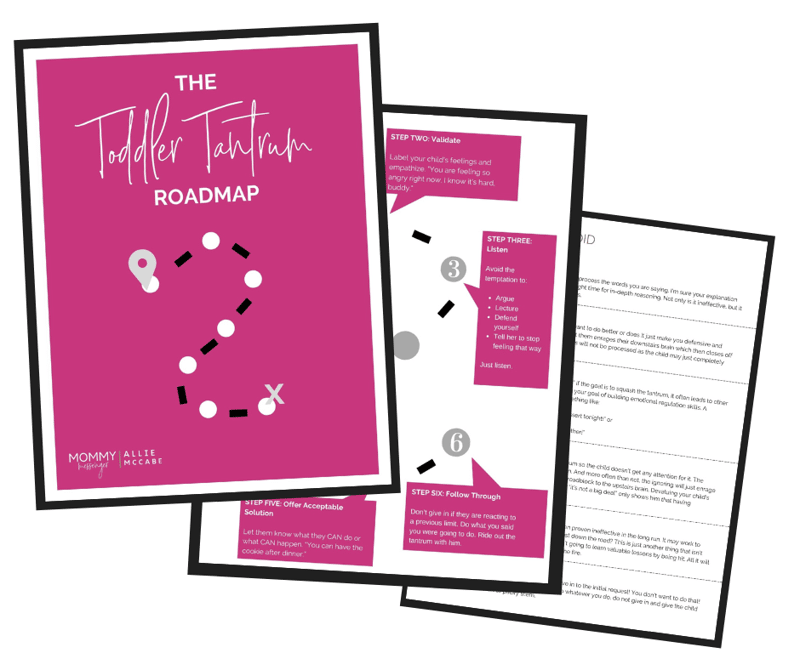 ---
Why I Recommended Those Strategies for Toy Throwing
The strategies that I recommended to my reader were limit setting (I won't let you throw this toy), remaining calm, and taking time for training (showing him how he CAN play with the toy).
Taking time for training is a commonly skipped step yet it's probably the most important one! You may think it's common sense to know how to play with a particular toy, but it really may not be to your child. Don't assume, just provide a model of how they can play with it. At least you have your bases covered that way.
See that's the problem with punishments such as spanking and timeouts; they don't teach the child what they CAN do or how they CAN play with that toy. It may signal to them that they've done something wrong, but if they don't know WHAT they did wrong and HOW they can do it differently, then you're just going to keep seeing that same behavior over and over.
In this particular case, the child laughing tells me that he DOES know it's wrong but continues to test because he hasn't gotten consistent responses from mom in the past. He's having fun wondering what's going to happen this time. Take that need to test away from him by being as consistent as possible with your response and discipline approach.
He may also be smiling because he loves the attention he gets from it. Even though it's negative attention (i.e. mom yelling), it's attention. By remaining calm and unimpressed, you're taking away some of his motivation.
Another Option for Older Toddlers
If your child is above 2.5 years old, you could also provide an Either-Or Consequence. You would say "Either you play with your toy on the floor, or I'll have to take it away." Children younger than 2.5 don't really understand cause and effect yet so a consequence like that won't be effective for them. So for kids under 2.5, you'll just want to follow through with taking away the toy after the behavior happens again.
Another important note to make is that toddlers need to have lots of gross motor play every day where they expend all of their energy and stretch all those muscles! Funnel that need into something acceptable like going outside to throw a baseball, shoot a basketball, kick around a soccer ball, or climb on something! You may find that this in itself will curb the toy throwing.
We'll see how long that little smirk lasts after he sees mama takin' charge 😉
Next time your toddler throws something he's not supposed to, automatically repeat the word "limit" to yourself. This will help you remember that the first step is to set a limit. From there you can go through the process of training him and providing an appropriate activity (outside time), if possible.
Try it out…
Visualize your toddler throwing a toy and then say the word "limit" quietly to yourself. Do this 3-5 times.
Can you think of any other situations (besides toy throwing) that you could apply this strategy to? Let me know in the comments!
---
Already dealing with temper tantrums and meltdowns? Download my FREE Toddler Tantrum Roadmap to learn how to handle them effectively!
Snag your Toddler Tantrum Roadmap!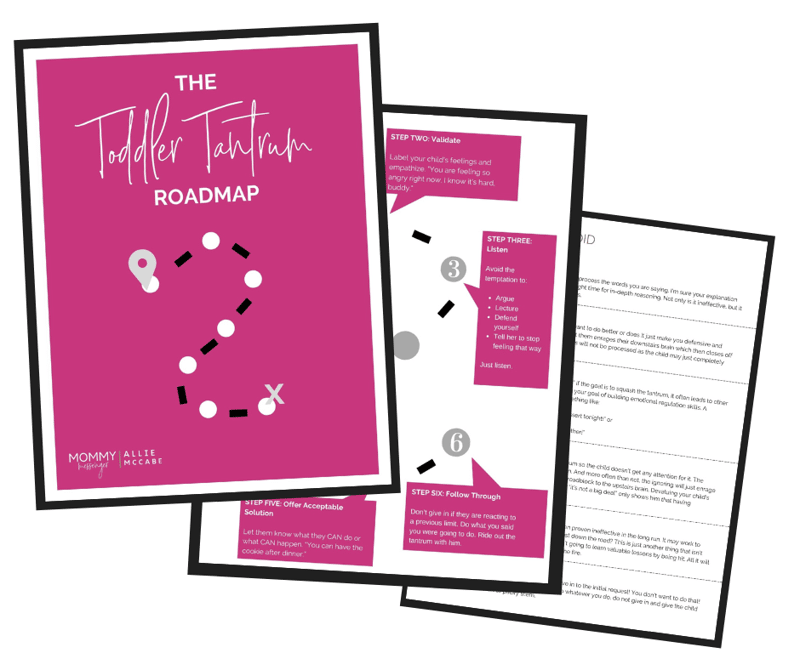 ---