Parenting little ones is a whole lot tougher when you don't have a solid discipline plan in place.
The problem with this is that most parents waver back and forth between different parenting styles because they aren't exactly sure what to do.
If you have already found yourself doing more nagging and yelling than you'd like to admit,
check out this FREE webinar
! You will learn powerful discipline tools to get your kids to listen without all that yelling and start feeling confident in your parenting. It's a game changer, my friends.
Before I became a parent, I had this idea in my mind that kids needed tough love in order to be respectful, cooperative, and successful human beings. I only looked at the outward behaviors themselves (and how to stop them) instead of thinking about WHY the behaviors were happening in the first place.
After somehow stumbling upon a Positive Discipline article one day, everything suddenly clicked for me. The tools and strategies made so much sense as I could easily see how they were directly connected to a child's physical and emotional development. I felt relieved that I finally found a parenting style that really resonated with me and that I knew would be best for my kids.
Using my discipline plan with my firstborn instantly had an impact on my confidence as a parent and more importantly, the relationship that I had with him.
In this post, I am going to introduce you to the Positive Discipline approach and teach you some foundational strategies that you can start using today.
What is Positive Discipline?
In its simplest form, Positive Discipline is the kindest, most respectful form of teaching. It is designed to help kids learn from what they've done instead of making them pay for it. The approach is built around the fact that children who feel better, do better.
Research has found that children who feel a sense of connection to their families and communities are more likely to be well-behaved.
The Positive Discipline approach aims to strengthen that connection and then build upon essential skills through instruction, training, and encouragement.
Positive Discipline is NOT…
When people first hear about Positive Discipline, they automatically think that it's all about letting kids do whatever they want just so they "feel better." They assume that parents who implement Positive Discipline place their child in the center of their universe and cater to their every need or let them get away with things.
This is simply not the case. Positive Discipline is NOT permissive parenting.
Let's talk about the difference between the two parenting styles.
Related reading: The Disciplined Child vs. The Special Snowflake
Permissive Parenting
have few rules or standards of behavior
emphasize their children's freedom instead of responsibility
ask their kids' opinions on major decisions
are usually very nurturing and loving towards their children
often act more like a friend, rather than a parent
use bribery such as toys, gifts, and food to get children to behave
rarely enforce consequences
provide little to no schedule or structure
Authoritative Parenting/Kind and Firm (Positive Discipline)
place limits, consequences, and expectations on their children's behavior
express warmth and nurturance
encourage independence
allow children to express ideas and opinions
encourage children to discuss options
listen to their kids
administer fair and consistent discipline
As you can see, there are clear differences between the two approaches.
The Kind and Firm style of parenting is neither permissive nor controlling.
As a Kind and Firm parent, you don't see your child as the center of the universe, but rather an equal contributor to your family.
You Don't Know What You Don't Know
The cool thing about Positive Discipline is that it's rooted in child development and it actually takes into account how a child's brain works in order to provide the most effective method for discipline.
If you're unaware of the research, it's easy to drop lines like:
"Kids need a good butt-whooping to show them who's boss!"
"Spankings help my kid understand right from wrong."
"There's no way I'd allow my child to throw a tantrum!"
"Kids should be afraid of their parents!"
"Allowing kids to express all of their feelings will just make them weak!"
I've heard them all. People who truly believe that physical punishments, manipulation, shame, and bribery are the answers to challenging behavior.
In order to really believe and embrace Positive Discipline, you must understand how a child's brain works.
Dr. Dan Siegal, author of No Drama Discipline, paints a very clear picture of how a child's brain works and particularly how that leads them to respond to different types of discipline. He says you can think of the brain as 2 main areas- the downstairs brain and the upstairs brain.
Recommended reading: No Drama Discipline by Dan Siegal
The downstairs brain, consisting of the brainstem and limbic region, is considered to be more primitive because it is responsible for our most basic operations such as strong emotions, instincts like protecting our young, and basic functions like regulating sleep and wake cycles, digestion, and breathing. This region is the source of our reactivity. When a toddler throws his toy when he doesn't get his way, the downstairs brain is to blame!
The upstairs brain, which houses the cerebral cortex, is responsible for more complex and sophisticated thinking such as sound decision making, planning, emotional regulation, personal insight, empathy, morality, and adaptability. This region is not developed at birth but instead begins to grow during infancy and childhood. These qualities are the things that WE are responsible for teaching our children as they are not born with them!
CLICK HERE to find out if your personality type fuels power struggles with your kids!
As you can gather from that information, our aim should be to engage the upstairs brain so we can actually TEACH our kids valuable lessons in emotional regulation. The only path to that upstairs brain is through the downstairs brain.
If the downstairs brain is a reactive state, then we will not be able to access the upstairs brain and our attempts at "teaching them a lesson" will be toast.
Snag your Toddler Tantrum Roadmap!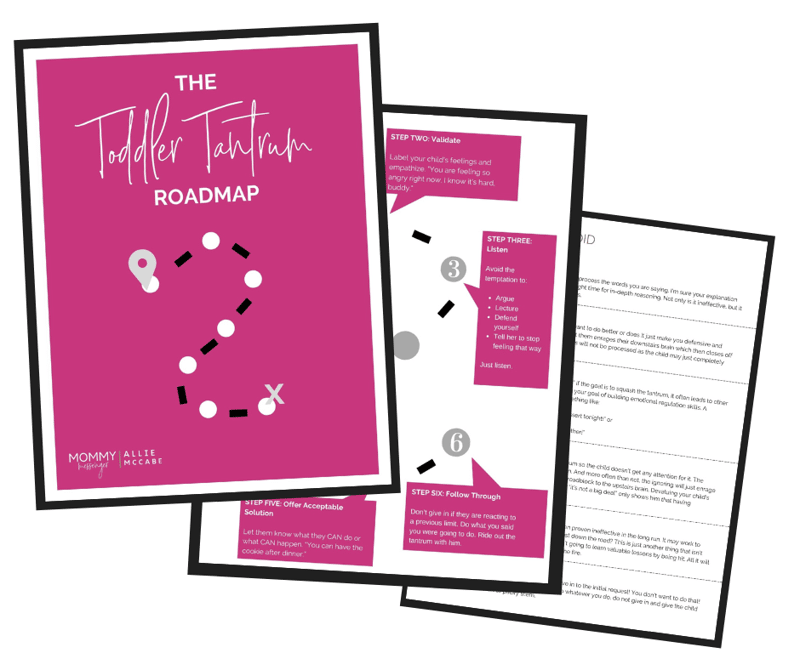 The Questions You SHOULD Be Asking
According to Jane Nelsen, author of the Positive Discipline series, if a parent is focused on punishments as their discipline approach, they are often asking questions like:
How do I make my kid do what I want him to do?
How do I make him understand "no"?
How do I get my child to listen to me?
How do I make the problem go away?
Of course these are questions that we all ask at some point in time, however, they are based on short-term thinking. If we truly want long-term results (a confident, capable, independent, kind child) then we need to ask questions that will get us there.
How can I help my child learn problem-solving skills, respect, and cooperation?
How can I help my child feel capable and confident?
How can I help my child feel included and important?
How can I turn these problems into opportunities for growth and learning?
How can I get into my child's world in order to understand his thinking?
Do you see how those questions address the bigger picture?
The Building Blocks of Positive Discipline
(Nelsen, 2015)
Mutual respect
The key phrase in Positive Discipline is "kind and firm." When you demonstrate a firm tone and body language, you are respecting yourself and your boundaries. When you remain calm and speak to your child kindly, you are respecting them as human beings. Using both at the same time cultivates the mutual respect and understanding that optimizes your opportunities for learning.
Understanding the belief behind the behavior
Every behavior that your child exhibits, good or bad, has a reason or a root cause. You will be able to more realistically analyze the behavior itself once you understand the reason behind it.
Understanding child development and age-appropriateness
As frustrating as many toddler behaviors can be, the majority of them are completely developmental. Understanding and setting age-appropriate expectations will allow you to handle challenging behavior more successfully.
It cannot be expected that toddlers act in a way that is beyond their ability or comprehension level.
Effective communication
Both parents and children listen to each other and speak to each other in a kind and respectful way.
Discipline that teaches
Discipline that teaches for long-term gain is neither permissive nor punitive. It is the area in the middle that balances both kind and firm in order to maximize opportunities for a child's growth and well-being.
CLICK HERE to learn how to structure consequences so kids listen the first time you ask!
Focusing on solutions instead of punishment
During the first few years, you will be the only person deciding how to handle tough situations. As your children get older, they can join in the process of coming up with appropriate solutions. Changing the approach from punishment to problem-solving will give your children valuable tools for future success.
Encouragement
This is one of the most important Positive Discipline principles. Celebrating effort and improvement is just as, if not more, valuable than celebrating success. Encouragement builds a child's confidence and gives them the self-assurance to accept new challenges without fear of failure.
Children do better when they feel better
A child who feels loved, encouraged, and connected to his parents will be much more motivated to cooperate, try harder, and offer respect. Think about it… would you feel more motivated at work if your boss talked down to you, yelled at you, and made you feel like garbage or if they complimented you, acknowledged your hard work, and connected with you personally?
Is Positive Discipline For You?
Let's take the quiz to find out…
Do you want a yelling-free home?
Do you want a respectful relationship based on trust and understanding with your children?
Do you want to feel confident (free of mom-guilt) when dealing with challenging behaviors?
Do you want to see your children grow up to be problem-solvers who are self-assured, kind, respectful, and emotionally healthy?
Do you want to be able to set firm boundaries without breaking your child's spirit?
If you answered YES to all of those questions, which I'm sure you did, then Positive Discipline is for you!
Go ahead and put some strategies into practice TODAY…
Snag your Toddler Tantrum Roadmap!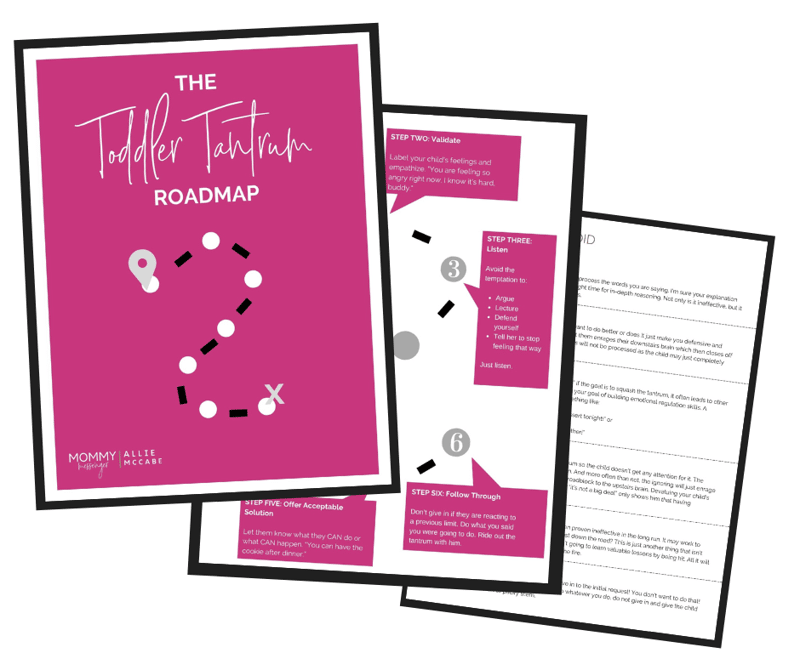 5 Basic Tools to Get You Started
There are MANY tools in the Positive Discipline toolbox to help parents navigate everyday challenges. Here are the 5 most basic ones to get you started:
1.  Replace Punishment with Opportunities
What is is: For many parents, this may be a totally new way of disciplining. It may feel like you're "letting your child get away with things" but you must keep in mind that Positive Discipline is about teaching your child how to handle situations appropriately. Punishing doesn't teach.
Take action: It's never easy to think logically in the heat of the moment. So let's start this mindset shift by thinking about something that happened recently where you resorted to yelling or punishing. Analyze the situation and think about how you could have turned that moment into a teaching opportunity.
Example: Your toddler spills his milk at dinner because he was waving his hands around acting silly. Instead of yelling or lecturing that he shouldn't have been acting silly at the dinner table, calmly give him a towel to clean up his mess.
2.  Establish Routines
What it is: One of the most effective ways to set limits and establish expectations for children is to create routines. Routines help children (and adults) feel more confident and secure in their environment. They know what is expected of them, which allows them to be successful. It also makes them feel like an important and capable contributor to the family.
Take action: Think of the times of the day that tend to get a little chaotic. Maybe your child has a hard time getting going in the morning or maybe there are some bedtime battles at night. The reason for the chaos may come from unknown expectations or a lack of power and independence felt on your child's part.
Example: Sit down with your child and get them involved in the creation of the new routine. Write down each step in the process (i.e. jammies on, brush teeth, wash face, etc.) and then post it somewhere that is accessible to your child. You may even let him check-off each step as he does it!
3.  Act, Don't Talk
What it is: In most cases, parents do way too much talking without taking action. They think that nagging, yelling, and lecturing is necessary in order to get their point across, however it usually does the exact opposite. Kids start to tune out all of the chatter as their brain becomes overloaded with words. This inadvertently turns over the power to them who tune their parents out and don't do what they say.
Take action: There are a few ways you can start taking more action. The next time you want your child to do something or there is a problem happening, keep your response to 3 words max. Even better if you use NO WORDS and just action. Think of a few recent situations where you found yourself nagging or lecturing and figure out how to shorten it to a 3-word response.
Another way to save your breath and decrease the likelihood of further argument with your child is to TELL instead of ASK when you need your child to do something. Many times parents say "Do you wanna get in your car seat?" or "Do you wanna take your dishes to the sink?" even when the tasks are non-negotiable! Parents don't even realize they are asking instead of telling.
Example: Let's say your child is banging his spoon against his high chair tray. Instead of giving him a lecture about how we don't bang spoons and how it hurts our ears, just take the spoon away quietly. Trust me, he will get the memo!
4.  Follow Through
What it is: Follow through is ESSENTIAL if you want your child to listen and cooperate. It is so much easier to keep giving chances because you don't want to get up and intervene, BUT your child will just be learning that they don't need to do what they're asked until the 15th time and mom starts yelling.
If you're frustrated and annoyed, then you've probably given too many chances without following through.
Take action: The next time your toddler tests you, stop and think before you respond and set a limit. Make sure that your limit is realistic and is something you can actually follow through with. Too many times I see parents who yell "If you stand up on that couch one more time, you won't be able to sit there!" and then when their child stands up again, they just give "the look" but don't take the child off the couch like they said they would.
Example: A common time for hassles is dinnertime. If your toddler throws his cheeseburger on the floor, tell him "Your food stays on the plate or in your mouth. If you throw it again, you'll be all done with your dinner." Then when he throws it again, take the plate away (and make him clean up the mess). Don't keep repeating yourself and giving more chances. One chance then follow through.
5.  Make Time-Outs Positive
What it is: A punitive time-out is one of the most common discipline techniques. Parents believe that putting their child in isolation to "think about what they've done" and to make them feel bad about themselves, will improve their future behavior. The truth is though, it typically does the opposite. Children sit in that time-out either thinking they are a bad person or thinking about how to retaliate against their parents. It is important to remember that children DO better when they FEEL better. Therefore, making them feel worse about themselves does not motivate them to do better in the future.
A positive time-out, on the other hand, encourages problem-solving and emotional regulation. It provides the child with time to cool off so they can make better decisions. We all have moments where we are frustrated and overwhelmed. Imagine being punished for feeling that way. Would that make you feel good and want to do better? Of course not.
Take action: Create a "calm-down corner" with your child. Find a spot that is away from the busy areas of your house and fill it with comfy pillows, soothing music, stuffed animals, and books.
Example: When your child is feeling frustrated or experiencing a behavior challenge, ask him if he wants to go to his calm-down corner. If he says "no," then offer to go with him. If he still says "no," then simply tell him that YOU are going to YOUR calm-down place. This provides a great model for your child! And I'm sure you probably need a few minutes to calm-down too after all of the challenging behavior!
CLICK HERE to discover why timeouts, punishments, and "because I said so" backfire every time!
_________________________________
Parenting toddlers will always be tough, but it doesn't have to shake your confidence. Positive Discipline is the balance between kind and firm that is necessary for a mutually respectful relationship.
Your days no longer have to be filled with mom-guilt.
Respecting your child + respecting yourself = enjoyable days with your little ones. You can do this!
Which of the 5 basic tools do you think will be the hardest for you to implement?
Snag your Toddler Tantrum Roadmap!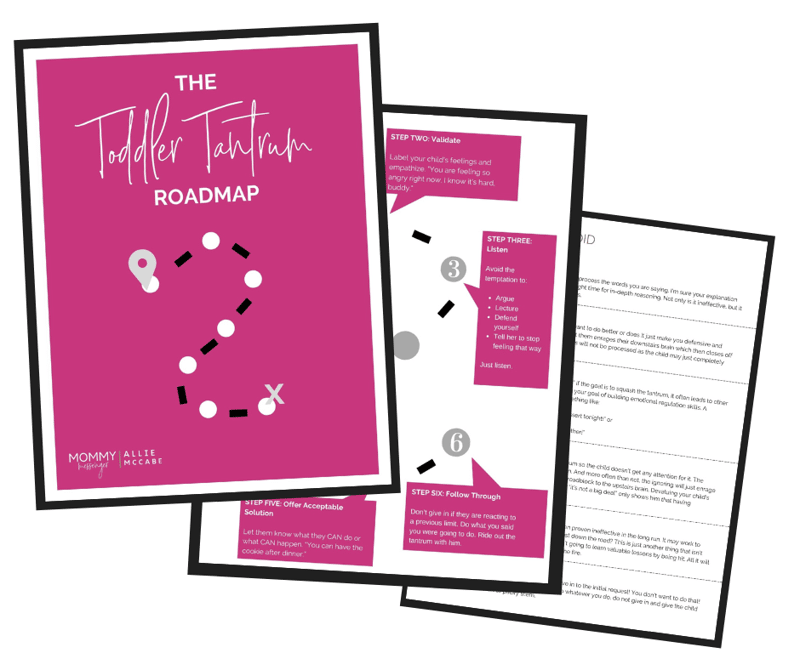 Sources:
Nelsen, J., Erwin, C., & Duffy, R. A. (2015). Positive Discipline: The First Three Years. New York: Harmony Books.
Nelsen, J., Lott, L., & Glenn, H. S. (2007). Positive Discipline A-Z: 1001 solutions to everyday parenting problems. New York: Three Rivers.