Your toddler is quietly coloring by himself in the living room so you decide to seize the opportunity and sneak away for a few minutes to finish your now cold lunch that has been sitting on the counter for over an hour.
You look into the living room to check on him and notice that the markers have migrated from the coloring book pages over to his arms… and legs… and face…
Your rainbow-colored child appears very proud of his handy work, however, you're not impressed.
"No TV for a week!" you proclaim as you run over to him.
Immediately after those words fly out of your mouth in frustration, you regret it. You realize that not only was it a totally unrealistic consequence, but it will end up hurting YOU more than it will him. We all need a little Daniel Tiger to save our sanity some days!
Little Johnny had been pushing your buttons and testing your patience ALL MORNING and you had just officially hit your limit. That was the last straw.
In the heat of the moment, it's easy for your discipline plan to fly right out the window. Your mind totally blanks as you anxiously search for an effective consequence.
What you need is a quick, easy to remember formula that will give you the perfect consequence every single time
The Answer is a Logical Consequence
The type of consequence we are going to talk about falls within the "Logical Consequence" category.
A Logical Consequence is one that is engineered by the adult and is related to the behavior.
When a consequence is given that is NOT related to the behavior, it fails to make a connection for your toddler and the "lesson" is lost.
This differs from a Natural Consequence which is something that you sit back and allow the child to face without any adult intervention.
A Logical Consequence is used when a Natural Consequence isn't practical, safe, or doesn't make sense.
When a child is behaving in a way that frustrates you and you want it to stop, then a Natural Consequence just wouldn't make sense.
The repetitive, annoying behavior is what leads you to that boiling point and need for a quick fix. An adult must intervene in this type of situation.
Your Go-To Consequence Formula
Whether your child is throwing his toys, coloring all over his body, or carelessly tossing couch pillows near your 5-month-old baby, this go-to formula will come in handy!
When your brain shuts down from frustration, just remember these words: Either-Or.
You can piece this formula together by using the following elements:
The Desired Behavior:

What do you want your child to do?

The Undesired Outcome:

What will happen if he doesn't do that?
Desired Behavior + Undesired Outcome = Effective Go-To Consequence
Now let's add those elements to the Either-Or statement…
Either
you
DESIRED BEHAVIOR
,
or
UNDESIRED OUTCOME
.
So for the example at the beginning of this post, you would say:
"Either you use your markers to color on the paper, or the markers will be taken away and coloring time will be over."
Pro Tip: For the desired behavior, tell your child what you want him TO DO instead of what you want him to STOP DOING. This type of language is more concrete and clear for toddlers. So instead of saying "stop coloring on your body with the markers", you'd say "use your markers to color on the paper".
Once you have given the Either-Or statement, be prepared to follow through IMMEDIATELY if they choose to keep doing the undesired behavior.
With an attitude of indifference, simply tell them…
"You chose to keep coloring on your arm. I am taking the markers away and coloring time is over."
But then my kid is going to freak out and have an epic tantrum!
Yep. They probably will. And that's okay!
Let your child get out his angry feelings as long as the people and things around him are safe.
It will take a little while for your child to adjust to this new way of learning and discipline.
Need some further help handling the tantrums? Download this Toddler Tantrum Roadmap and prepare yourself!
Snag your Toddler Tantrum Roadmap!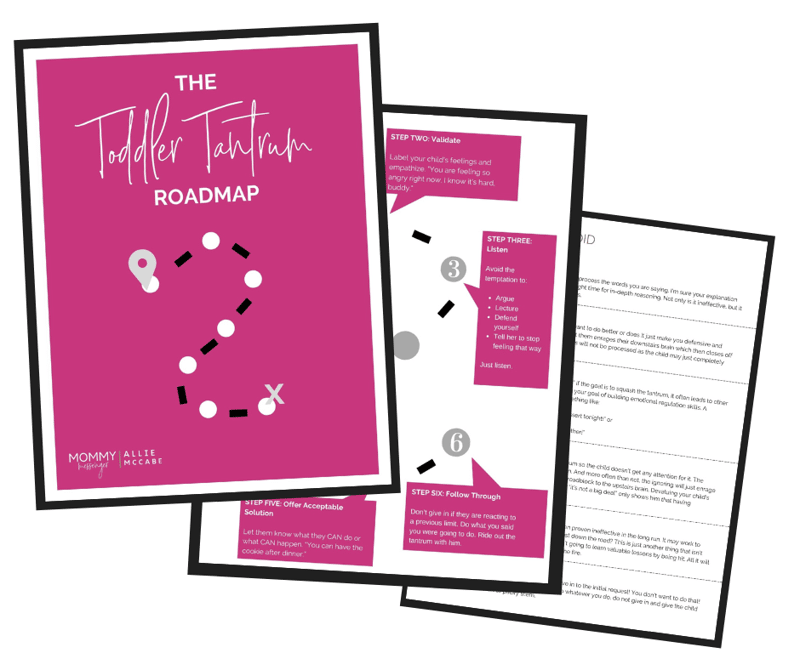 The Either-Or Consequence in Action
Here are 10 examples of common toddler situations and the corresponding Either-Or statement:
| | |
| --- | --- |
| throwing toys | Either you play with your toys nicely, or they will get taken away for the rest of the afternoon. |
| touching/hitting | Either you touch your friend nicely, or I'll have to move you somewhere else. |
| throwing food | Either you keep your food on your plate, or you'll have to pick it up and dinnertime is over. |
| getting up from the table | Either you stay sitting at the table, or I'll have to put you in the highchair. |
| using object inappropriately | Either you use that (insert object) the right way, or it will be taken away. |
| running away in public | Either you walk close to me, or you'll have to ride in the cart for the rest of the trip. |
| ripping pages in a book | Either you turn those pages gently, or the book will be taken away. |
| whining for object | Either you use your big boy voice, or you will not get the (insert object). |
| jumping on the couch | Either you sit on the couch while I cook dinner, or you'll have to go sit in the playard. |
| pulling your hair | Either you touch my hair gently, or I will put you down (if he was being held). |
Benefits of Using This Consequence
Decreases the likelihood of doling out an unrealistic/unrelated consequence.

Helps your child connect his actions to the appropriate consequence, thus teaching him a lesson.

Gives your child choices and the opportunity to comply.

Allows you to remain consistent with your discipline tactics, which helps your toddler learn his boundaries.

Saves you from losing your ever-loving mind
The Either-Or Consequence Should NOT be Used for…
The concept of cause and effect isn't truly understood until a child is around 2.5 years old. Before that age, they can't make the connections between their behavior and the consequence. Therefore the lesson will be lost on them.
If your child is younger than 2.5 year of age, then try some other tools such as Natural Consequences, Ignoring, Immediate Follow Through, or Redirection.
Don't set your young child up for failure. Wait until he's developmentally capable of understanding the concept.
Triple Your Results
The Either-Or statement alone will yield good results, but those results can improve exponentially with just a few additions.
Go over to your child
If you are trying to dish out the consequence from across the room, then don't be surprised if the behavior continues. It is important to gain your child's full focus and attention so you know he heard everything and understands that you mean business.
Walk over to your child, get down at his eye level (or slightly below), and give your Either-Or consequence.
Give consequence immediately and calmly (attitude of indifference)
A common problem I see is that parents wait too long to give the Either-Or consequence. They let the behavior continue to annoy them until they get to their breaking point.
If you're extremely annoyed and frustrated by your child's behavior, then you've let it go on for too long.  As soon as you see the behavior start happening, go over quickly but calmly, and give the consequence.
Follow through
Always, always, always follow through with your Undesired Outcome right away. Do not give more chances!
---
Your toddler's behavior (and your sanity) can be transformed using the Either-Or Consequence consistently.
Give it a try and let me know how it goes!
Need help coming up with an Either-Or statement for a unique behavior? Post it in the comments and I will help you out!