We have all seen it, but not all of us have been there yet…
The 2-year old screaming and rolling around on the ground at the grocery store because she was told not to lick all of the produce.
The standoff in the middle of Target between a frustrated mom and her stubborn toddler who refused to leave the toy department.
The little boy crying hysterically at McDonald's because his mom wouldn't let him have a hot fudge sundae for breakfast.
Just the sight of these situations is enough to make any woman temporarily question her desire to have children!
There are so many things to worry about when becoming a new mom and it's safe to say that power struggles and epic tantrums are at the top of the list.
Turning the Fear Into Preparation
When I was pregnant with my first child, I researched baby sleep like a crazy lady. I was so scared of losing my precious sleep for the next 10 years that I decided to learn as much as I could about creating healthy sleep habits from the start.
I figured I'd much rather prevent bad sleep habits from forming than have to break them further down the road.
I immediately sorted out his days and nights, got him on an eat-play-sleep routine, implemented nap and bedtime routines, set up a cozy sleep environment, and everything else I was supposed to do and guess what…it worked!
Going into the experience with the understanding of how and why to do certain things really benefited everyone involved as we all got our much-needed, quality sleep from very early on.
I knew the same thing was possible with behavior and discipline.
Working with young kids on a daily basis as a Speech and Language Pathologist, I regularly had to manage challenging behaviors.
Refusing to participate and do work

Completely ignoring me

Throwing tantrums when something didn't go their way

Meltdowns when transitioning to new activities
Each day was something different, but equally as frustrating.
It wasn't until I became a mom and dug deep into the research, that I truly started to understand the power of prevention.
Daniel Siegel, author of The Whole Brain Child and No Drama Discipline, talks about the downstairs brain vs. the upstairs brain. In a toddler, the downstairs brain is very primitive and can be easily triggered, whereas the upstairs brain is more sophisticated and able to process higher order thinking skills.
The problem is that the upstairs brain cannot be accessed if the downstairs brain is in a reactive state.
It is imperative that we as parents have access to that upstairs brain so we can effectively teach our intended lessons. The moment we take the "I'm the boss so you better listen to me" type mentality, is when we lose the ability to engage our toddler in any sort of learning opportunity.
The book Connection Parenting by Pam Leo functions around the concept that children who feel better, behave better. There is no stronger impact on a child's behavior and emotional well-being than that of genuine empathy and connection. This powerful concept helped me see that my work starts well before a student steps into the therapy room.
I began to implement the strategies and knowledge I had learned from my research into the daily interactions with my students at school.
The Proof is in the Pudding
One student, in particular, was known for his epic standoffs with teachers. He would turn his back and flat out refuse to do anything he was told to do. Teachers tried bribing, threatening, yelling, manipulating, you name it, but nothing seemed to work consistently.
During our next session, keeping in mind that I needed to take the power out of the situation, I walked over to the student, got down below his eye level, and calmly but firmly said, "Justin, I need you to come sit down at the table."
Justin initially gave me a puzzled look, but then rose to his feet and walked over to the table with me without a fuss.
Wait what? It's that easy?
For Justin, yes….it was.
I took it a step further at the start of his next therapy session 2 days later by asking him "Justin, would you like to do your worksheet at the table or on the carpet?"
His eyes lit up, "on the carpet!"
We went and sat down on the carpet together and Justin happily completed his worksheet.
This Speech Therapist was speechless…
From Therapist to Mama
As my son got older, I began using the strategies on him in order to establish a balance of power and put him in the best position to engage his upstairs brain. I now had some great experience under my belt and felt confident applying the techniques consistently.
What had started out as additional thought and effort, quickly became second-nature. The strategies were woven seamlessly throughout our daily routines and I could see a self-assured little boy who was laid back, respectful, and confidently compliant. He didn't feel threatened, manipulated, or belittled, so the power remained balanced.
It is important to note that tantrums will not always be preventable and more importantly, they shouldn't be. Tantrums are a completely normal part of development as our toddlers are learning about the rules and expectations of the world around them each and every day.
Just as us adults have our bad days once in awhile, so will they. When a tantrum does occur, it will be important to navigate it effectively.
The Brain Hacks That Work
Throughout my time working with kids as a Speech and Language Pathologist AND having a toddler of my own, I've identified 11 simple brain hacks that help to decrease power struggles, prevent tantrums, and teach lessons effectively.
The goal of these brain hacks is to take the unnecessary battle of power out of situations so that you can effectively teach the lessons you intend to. A toddler's brain simply cannot accept any teaching when it's in defense mode.
For ease of understanding, the hacks have been broken down into 3 main categories: Giving Demands, Responding to Requests and Behaviors, and Daily Prevention and Preparation.
---
Already dealing with temper tantrums and meltdowns? Download my FREE Toddler Tantrum Roadmap to learn how to handle them effectively!
Snag your Toddler Tantrum Roadmap!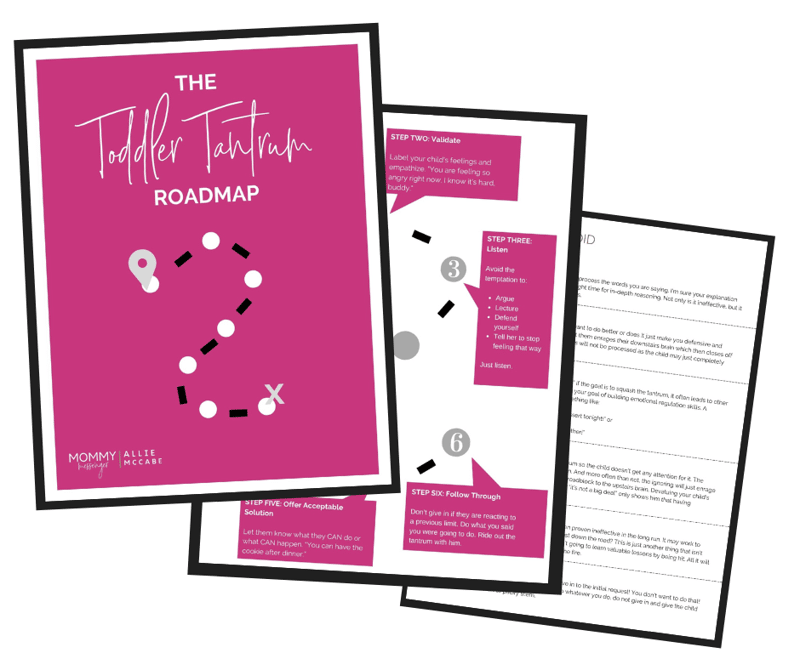 ---
Giving Demands
Strategies that can be implemented specifically when giving a direction or placing a demand on your toddler in order to decrease the chance of resistance.
1. Location Optimization
To help focus your child's attention on what you're saying and establish a connection, go over to your child and place the demand. The close proximity will allow your child's defensive walls to lower (something that naturally happens when being told what to do all day), which will allow you to get your message across more effectively.
2. Eye Level Commands
Take the location optimization a step further and get down on or slightly below your child's eye level. This serves the same purpose in that it helps focus your child's attention on your message and shows that you are coming from a place of understanding instead of power. It is intimidating for a child when someone much bigger is towering over them and telling them what to do. This can automatically send those walls flying up!
3. Calm but Firm
It is important to strike a balance between a calm, unruffled tone and a firm, authoritative tone. Janet Lansbury described the ideal tone perfectly. She said to imagine you are the CEO of a company and have to give an order to one of your employees. You wouldn't bark the order at the them, but instead would give the demand directly in a very "nonchalant" manner. A child, just like an adult, doesn't respond favorably to being yelled at. They may immediately get defensive and upset, which is completely avoidable by using an appropriate tone.
Responding to Requests & Behavior
Strategies that are particularly useful when responding to toddler requests or unwanted actions/behavior in order to create a balance of power.
4. Say YES!
It's our job as a parent to keep our children safe and teach them right from wrong, therefore the word "no" slips out about 349+ times per day! It can be very frustrating for a child to constantly hear that word and not be able to do the things they want to do. While there are some non-negotiables, especially when it comes to dangerous situations, there are also many opportunities to flip the script and give a "yes" with conditions.
For example: if a child asks for a cookie after breakfast, you could say "YES, you can have a cookie after dinner tonight." You are still holding firm with your no dessert before dinner rule, but are providing your child with the condition in which they CAN have a cookie (i.e. after dinner). Switching the majority of your daily no's to yeses can have a huge effect on the overall temperament of your child.
5. First Person Directives
When responding to an undesirable behavior, it is important to use first-person language. Using the pronoun "I" indicates with greater clarity that you are responsible for the expectation and the one who follow through.
For example: If your child is climbing on the tv stand, you'll want to say "I need you to get down from there. That is very dangerous." as opposed to "Mommy needs you to get down from there."
6. Empathize & Label
A toddler is continuously learning new things at the speed of light. Each and every day they are trying to figure out the world around them and attempting to exert their newfound independence. This can get very overwhelming for them so having someone there to support and understand their struggles is invaluable. Placing yourself in their shoes by empathizing with them builds connection, evens the playing field, and minimizes frustration. Going a step further and providing a label, helps them start to identify their feelings which will allow them to use their words in the future instead of acting out.
If you see your child starting to get frustrated because he can't zipper his coat, you might say "You are frustrated because you can't get your coat zipped up. Zippers can be so tough!"
Daily Prevention & Preparation
Strategies that can be utilized each day in order to establish connection, foster independence, and increase overall self-esteem.
7. Connect
Connecting is the most important and effective strategy when it comes to preventing tantrums. A child who feels more connected to their parents will always try to behave better and please them. Often times what comes across as challenging behavior is just a cry for connection.
Even when you have a long to-do list, be sure to set aside at least 20 minutes per day to just press pause and go give your toddler some undivided attention. Let your child lead with their preferred activity and have some FUN!
8. Give Choices
Giving a toddler choices throughout the day gives them the sense of independence that they crave. After spending the majority of their day being told what to do, it's a nice way to provide a balance in power and also show them that their opinion is important and valid.
Let them make simple decisions such as, "would you like to eat your cereal with a red spoon or a blue spoon today?" or "do you want your milk in the orange cup or pink cup?"
9. Visual Schedules
Many times, simply knowing what comes next in the day will give your toddler the confidence to transition more smoothly. A lot of challenging behavior occurs when transitions are required because your toddler has to stop what they are doing and suddenly switch gears to do something else (i.e. stopping their favorite movie to go grocery shopping). This can be overwhelming for toddlers and make them feel uneasy.
A visual schedule shows the order of activities for the day with pictures. It provides predictability in your toddler's chaotic little world! Think back to your elementary school days, I bet most of your teachers had some sort of visual schedule up on the chalkboard. You were able to glance up there and know if you had gym, art, or music that day and when you'd be doing (suffering through) math each day.
Even as adults, we utilize schedules in our daily lives to provide order and organization. It gives people of all ages a sense of contentment.
10. Social Stories
Toddlers are at that wonderful age where they are constantly pushing boundaries and testing their limits. They need us to teach them appropriate expectations in different settings as they are not born with this knowledge. You may think kids hate rules, but actually, they love them! Limits allow kids to play comfortably in the confines of those expectations. When they know what the expectations are, they can relax and have fun as they know what is allowed and what is not. The trick is teaching them what TO DO instead of what NOT TO DO. Social stories do just that.
A social story can be something as simple as drawing up some pictures on a piece of paper that show the sequence of events your child will go through. For example, you may draw some pictures of your child at the grocery store. The first picture could be walking in the doors hand-in-hand. The second picture might be sitting in the cart nicely. You want the pictures to be of your child engaging in these appropriate behaviors.
Get your child excited about being the main character in your stories and then read the stories frequently!
11. Positive Affirmations
Boost your child's self-esteem through positive affirmations. Tell them all of the wonderful things they are so they start internalizing those traits. Toddlers will believe they are whatever it is you tell them they are. If they hear "you're so naughty!" on a daily basis, then they will start believing that's who they are as a person. They don't yet have the ability to see that as a changeable trait.
If your child helps you put clothes in the dryer say, "Wow, you are such a helper!" If they give their little sister a toy to play with say, "You are so sweet!"
Let's Recap
Location Optimization
Eye Level Commands
Calm but Firm
Say YES!
First Person Directives
Empathize & Label
Connect
Give Choices
Visual Schedules
Social Stories
Positive Affirmations
The MM Action Plan
Preventing tantrums and power struggles will always be easier and less stressful than trying to diffuse them once they've started. It's easy to get caught up in all of your daily responsibilities, but carving out a little time to plan a few preventative activities will really help maintain the peace and flow of your home.
Here's what you can do right now:
Pick 2 brain hacks listed above that you feel would work best for your toddler and would be easy for you to implement today.

Choose some specific opportunities in your daily routine when you could apply the hacks. For example, if you always tell your child to go wash his hands before dinner, you could try using the Location Optimization and Eye Level Commands hacks.

Evaluate how the interaction went. What went well? What didn't go so well? What could you do differently next time?
Here's what you can do this week:
Throughout the rest of the week, start incorporating as many brain hacks as possible into your daily routine. Focus on one at a time so you don't get overwhelmed. At the end of each day, reflect upon your toddler's temperament and the overall mood in your home. Determine if any challenging behaviors or experiences could have been prevented with a brain hack and how you could incorporate it next time.
---
Already dealing with temper tantrums and meltdowns? Download my FREE Toddler Tantrum Roadmap to learn how to handle them effectively!
Snag your Toddler Tantrum Roadmap!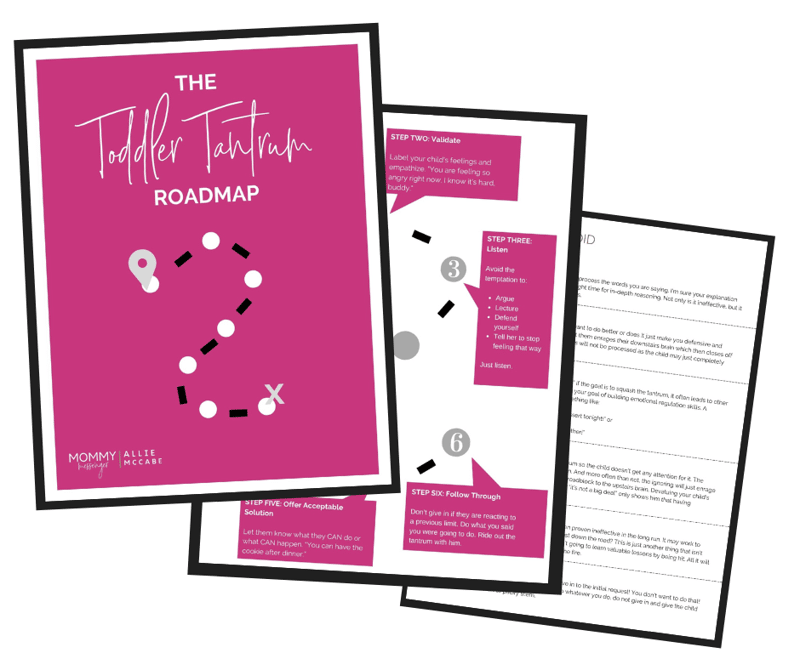 ---
If you found this post helpful, PIN IT so you can come back to it later!